Sell My House Fast in San Diego, CA
Trusted Cash Home Buyers in San Diego Since 2010
We Buy Houses in San Diego - In Any Condition
Just Follow Our Simple 3-Step Process Below to Get Started!
Sell Your House Fast In San Diego
---
We buy houses in San Diego and surrounding cities in any condition. If it's time for you to sell your house fast in San Diego, California then look no further. We are trusted cash home buyers in San Diego and we buy houses for cash - no hidden fees or strings attached. You can sell your San Diego house fast to us exactly as it is, and we will still pay you a fair cash offer.
When you sell to San Diego Fast Cash Offers, you'll save time and money. It's a simple, hassle-free process. Plus, there are no realtor fees or commissions to worry about. You can sell your San Diego house fast without using a realtor!
Selling a home in San Diego or surrounding areas can be a time-consuming and discouraging process, and one that many homeowners don't want to deal with. However, at San Diego Fast Cash Offers, we help make the process easy so that you can sell your home fast and get on with life. Call us now at 619-490-4521.
Selling your house with a private home buyer is actually very easy, but it might not be an option people are familiar with.
We simply eliminate the need for an agent by working with you directly. Interested in learning more? Follow the 3-steps below!
Visit Our How It Works Page
Understand how the process works and learn how we come up with our offer.
---
Check Out Our Reviews!
We know you likely want to know more about who you might be working with. See what some our happy home sellers have had to say about us!
---
Request Your Fast Cash Offer
We will reach out within 24 hours to learn more about your house or rental property. Fill out your information and let us take it from there!
We Want to Buy Your San Diego Home No Strings Attached
---
Have you tried to sell your San Diego home, but you've hit some roadblocks along the way? If you've found yourself in this situation, then you've probably turned to a real estate agent. But, this isn't always the best option when you want to save money and you need to get out of your home fast. That's where we step in. We buy houses in San Diego with cash, which means we are able to close quickly and on your schedule. When you work with San Diego Fast Cash Offers, there's no more waiting around for months for your house to sell or for the bank to approve your loan.
Do you want to know the best part about working with us? There are no hidden fees, closing costs, or appraisals involved. This is why hundreds of happy clients have chosen to work with us. We make the home selling process pain-free!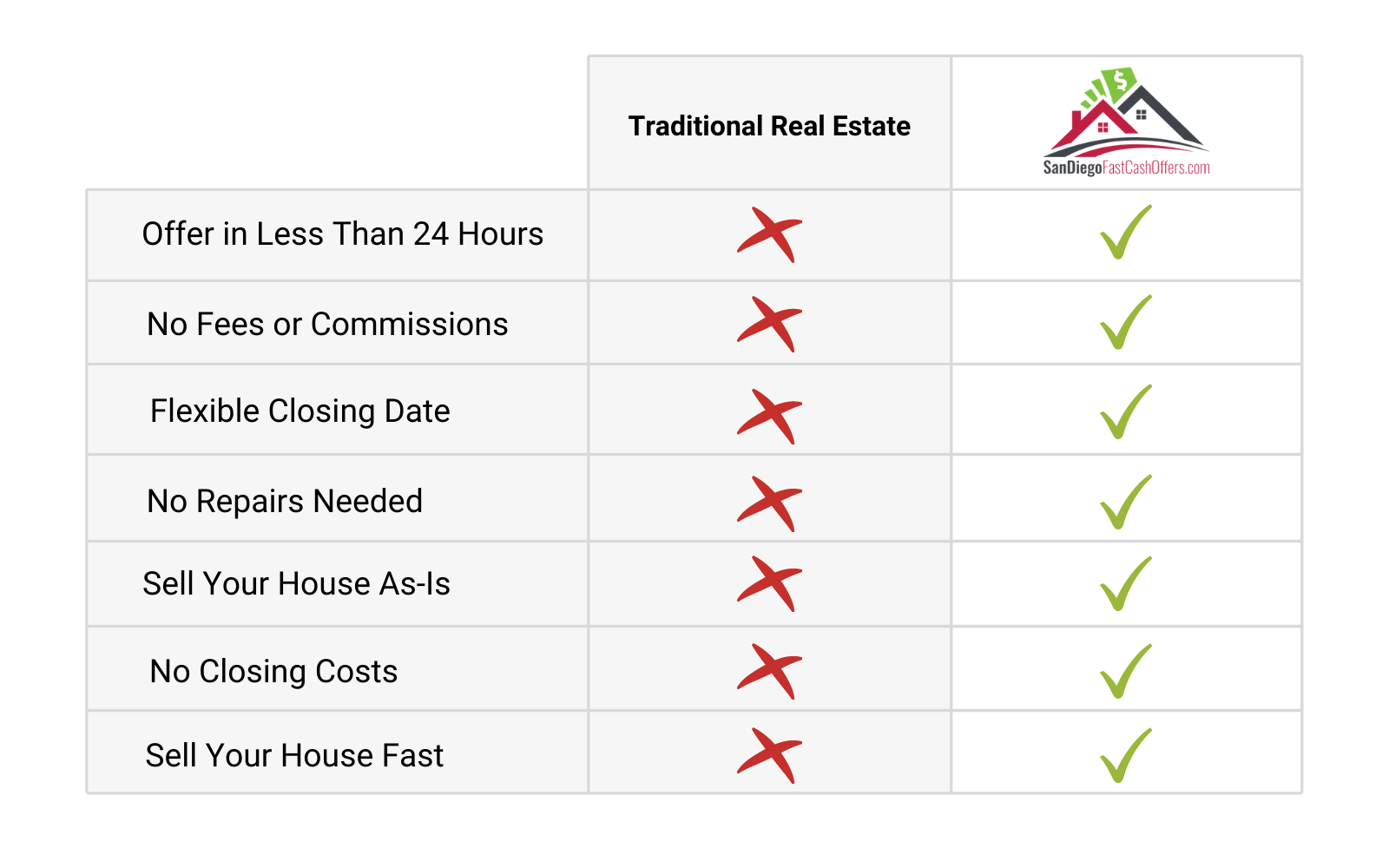 Sell your House Fast in San Diego, California in Any of These Situations
---
No matter your situation, we will help you sell your house fast in San Diego, CA! We buy houses in any condition or price range for cash. We make it easy to sell your house fast, and you don't have to worry about making repairs. We buy houses in San Diego in any condition.
---
Old, Outdated Houses
New Houses
Storm Damage
Fire Damage
Termite Damage
Full of Stuff or Trash
Major Repairs Needed
Unfinished Construction
Financial Issues
Title Issues
Code Violations
Hoarder Home
Low Equity
Large Liens
Out of area property
We Pay All Cash
Because we pay cash, we can be flexible and close on your time frame. We don't need to wait for an appraisal or lender approvals.
Easy & Clear Terms
We make this a simple, straight forward and easy to understand process for you.
We Do the Paperwork
We use a licensed and insured title company and we will make sure the details are taken care of, so you don't have to.
Zero Fees
You won't have to pay any title or closing costs.
Sell "As-Is"
You won't have to fix or clean anything! We will buy your home the way it is.
Close in Days
We can close in as little as 3 days.
Enter Your San Diego Address to
of Selling to San Diego Fast Cash Offers
---
No Repairs or Cleaning

You don't have to make any repairs or even clean your property. You will save time, money and a big headache because we take care of everything for you.

No Realtor Needed

You don't have to waste time working with a realtor and waiting months for your house to sell. We will pay cash for your home and can close fast!

We'll Do the Paperwork

You don't have to worry about mountains of paperwork. Our team will do all of the heavy lifting for you so that you can sit back and relax.

No Fees, Commissions, or Closing Costs.

We aren't listing your home, so you don't have to pay us anything. Instead, we will pay YOU for your home.

Peace of Mind

There's no more wondering about how much you will make off of the sale of your house. We will give you a fair cash offer from the start, and we won't back out. You will have the peace of mind of knowing exactly how much cash you'll receive for your property.
Reviews from those we've helped
"Everyone on their team is quick to respond, friendly, very professional and very easy to work with. Nothing slipped through the cracks of the transactions."
– Julie R.
"Fantastic company, great renovations helping San Diego neighborhoods look more beautiful! Good job guys!"
– Alexa A.
"San Diego Fast Cash Offers is honest and fair when buying a home and I recommend them always! They bring honor and dignity to the distressed homes they work on and redeem the neighborhood home values in any community."
– Elena F.
The main cities we buy in within San Diego County
Communities inside San Diego City:
Call Now to Get Your Free Cash Offer!